our mission
---
Are you looking for the best dentists in Doylestown PA? Our goal is to help our patients achieve optimal oral health and aesthetics with respect to their individual dental and medical needs. We will strive to accomplish this by using the latest techniques and best materials in the least invasive manner possible.


dental services
---
- Full Mouth Rehabilitation
- Cleaning (prophylaxis)
- Routine & Panoramic Radiographs (films)
- Non Surgical & Adjunctive Antibiotic Periodontal Treatments
- Intraoral Camera Analysis
- Fillings (tooth colored)
- Cosmetic Bonding
- Bleaching (teeth whitening)
- Crowns
- Crown Lengthening
- Bridges
- All Ceramic Crowns & Bridges
- Ceramic Inlay/Onlay
- Veneers (Ceramic & Resin)
- Implant Placement
- Bone Graft
- Implant Restorations
- Extractions
- Full Dentures
- Partial Dentures
- Mouth Guards
- Laser Decay Detection
- Oral Cancer Screenings
- Minimally Invasive Dentistry
- Root Canal Treatment
- Night Guards
- Sealants
- Cosmetic Recontouring of Teeth
- Soft Tissue Laser
- Invisalign Orthodontics
- BioClear Matrix System
- Digital Impression
contact us
---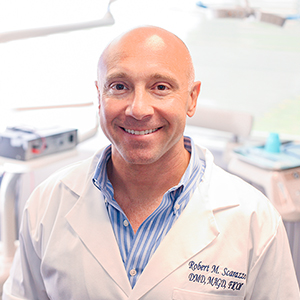 Robert M Scarazzo DMD, MAGD, FICOI
Founder
fax: (215) 348-3847
Call us today to schedule an appointment. One of our trained professionals is ready to answer all of your questions. You may also use our scheduling service by clicking the button below.
Schedule an appointment
New Patient Forms
---
You may download the three forms to the right and complete them at your convenience. Please present these when you come in for your first visit. All information is confidential. If you have questions regarding these forms feel free to call or email.
Download Forms
In-House Dental Plan
Testimonials
---
I have been going to this young, energetic dentist since my former one retired. I became acquainted with Dr. Scarazzo through my elderly patients when I drove them to his Warminster office for visits. I was so impressed with him that I quickly became his patient. He closed the Warminster office and is now located near the Mercer Tile Works. I am now 62, had a big gap between my front teeth and today I had my first cosmetic dental procedure. He was able to close the gap and I can smile again without a closed mouth smile!
Dr. Scarazzo is the best in my book! He is competent, compassionate and a true perfectionist. I am extremely pleased with the Crown and Bridge work he did for me. He explained every phase of the procedure and made sure I was comfortable during the work.
I am in awe of Dr Scarazzo's expertise. I receive so many compliments on my smile and the entire procedure was comfortable, despite of the amount of serious dental work. He is a gentle, caring perfectionist. His entire staff is exceptional. Everyone goes above and beyond to make my visits a pleasant experience. If you suffer from "dental-phobia" a visit to this office will be a permanent cure.
I recently had ten porcelain veneers done by Dr Scarazzo. I had my first set done about 20 years ago. They were called "caps" - basically cheap enamel on top of metal. Eventually the metal started showing at the top of my gum line and turned yellow. They did their job for a while but then I asked Dr Scarazzo about getting them replaced and he recommended the new porcelain veneers. WOW! What a difference. Dr Scarazzo set up my course of treatment. It was many hours but it was so worth it. Dr Scarazzo and his staff made me feel so welcome and comfortable in their office. Now I can smile without metal showing at the top of my gum line! You will be so happy with the end results :)
I like Scarazzo Dental because everyone is so professional and relaxed. The team is exceedingly flexible, have a great spirit and get me in and back out to work in no time at all with clean teeth, a smile and a laugh for the day!
Schedule your visit
Click the button below to schedule your next appointment or call us today.
One of our trained professionals are ready to answer all of your questions.